RehaMoto LGT-5100P is our latest active passive trainer to help patients suffering from neurological disorders, post-operatively, or whoever with limited mobility to rehabilitate and strengthen the muscles of the upper and lower limbs, and improve cardiovascular function safely and effectively. It is suitable for use in rehabilitation centers, nursing homes, physiotherapy centers, and for home use.
Reduced weight, easing the burden of healthcare givers
RehaMoto LGT-5100P is of more accessories but less weight (46.5kg) and is designed with wheels at the bottom, allowing healthcare workers to move it from patient to patient, from room to room more easily. Healthcare workers are one of the most overworked groups in the world. A medical device that is convenient, easy to use, and the most assured can significantly make their life easier and deliver optimal patient care.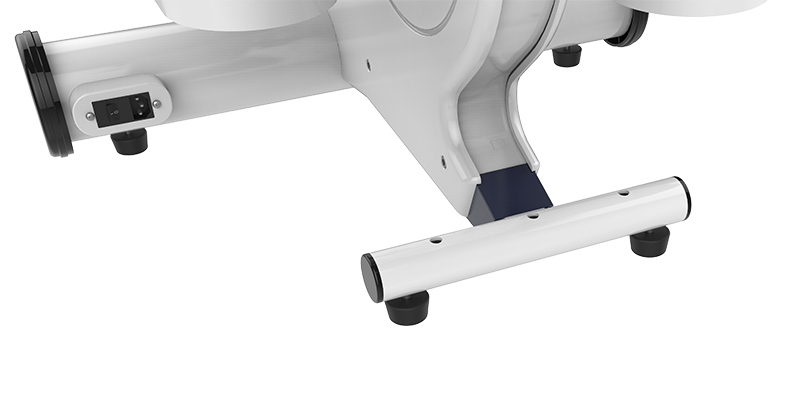 Improve capabilities for patients to get more comprehensive training
The rehab bike is of five training modes to improve patients' mobility roundly and meet the needs of each patient based on their own needs.
Active-passive mode: The bike moves according to the program selected and the force exerted by the user.
Assisted mode: For patients with little muscle strength and who cannot complete the pedaling cycle independently, it can assist the motor movement to help boost motor activity, improve strength, and improve coordination.
Isokinetic mode: The moves are performed by the force exerted by the user, with constant speed but varying resistance levels (0-24).
Symmetrical training mode: It indicates the training levels of the left and right limbs to help patients correctly adjust the levels to improve bilateral balance of muscle strength and enhance coordination.
Fine motor training mode: It is used to assess patient cognition using hand-eye coordination on the basis of reaction time and accuracy.
Increased functionalities, ensuring safe & effective training
Ensuring patient safety is of top priority. It is important to avoid secondary injuries while training. The active-passive trainer has been added more protection apparatus.
Heart rate monitoring: It can be connected with the heart rate monitor to avoid overexercise and promote effective exercise.
Emergency stop: Patients can stop the training at once when there is any discomfort.
Velcro handcuff and leg support: For secure hold during the exercise.
Non-skid hand grips and pedals: The grips are covered with foam material and the pedals are with rubber material.
Spasm recognition: It quickly identifies and releases spasms, ensuring muscles are protected for safe training.
Wheelchair fixture: It makes it friendly to individuals in wheelchair to exercise.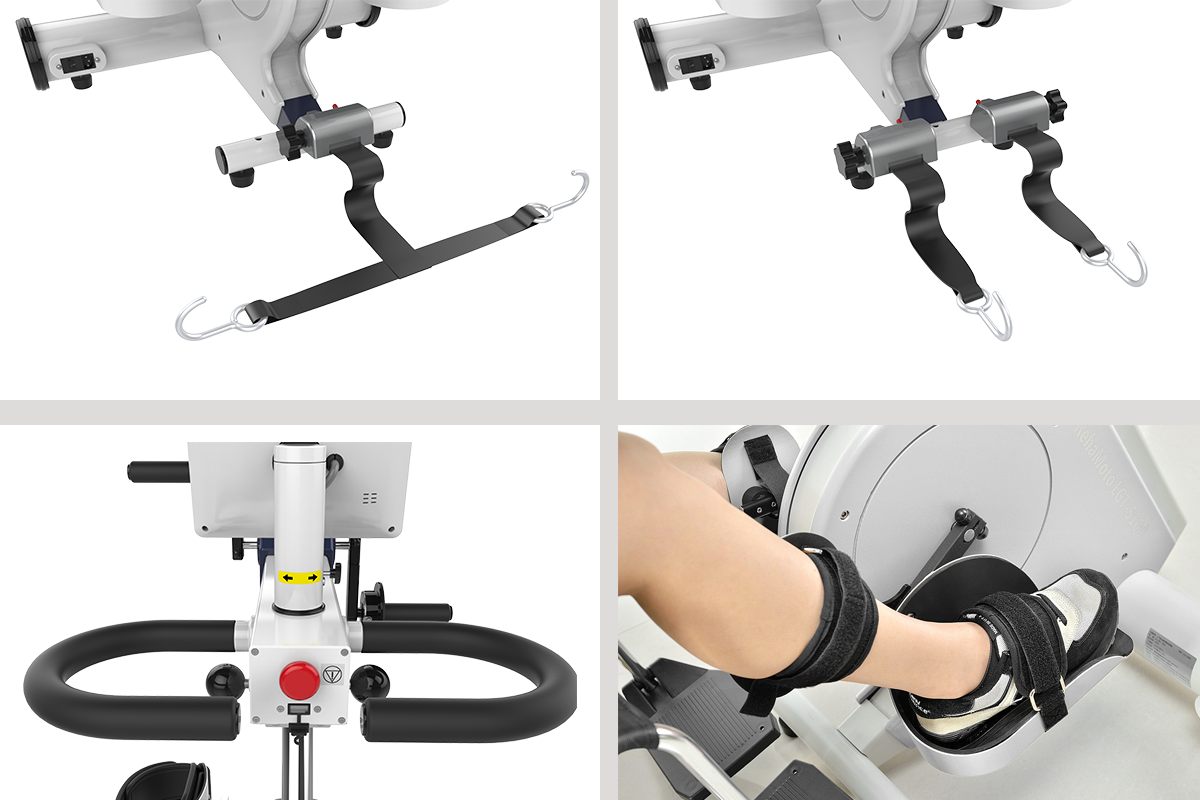 Outstanding features, making it simple, convenient, and reliable
8" LCD rotatable touch screen:Intuitive and responds to light touch, setting the parameters easily. It is convenient for monitoring the exercise and providing a detailed presentation of the training program. Being rotatable makes it convenient for healthcare givers to easily adjust the training parameters according to the patient's condition during training.
High-performance servomotors: Ensuring smooth and quiet operation.
3 game types: Adding fun to the dull cycling, increasing patient engagement.
Real-time data: Speed, resistance, training time, and other training information are displayed on the screen.
Immediate feedback: Providing overall training results and rehabilitation data immediately after training.
Adjustable frame and handlebar height: This makes it suitable for patients with different figures.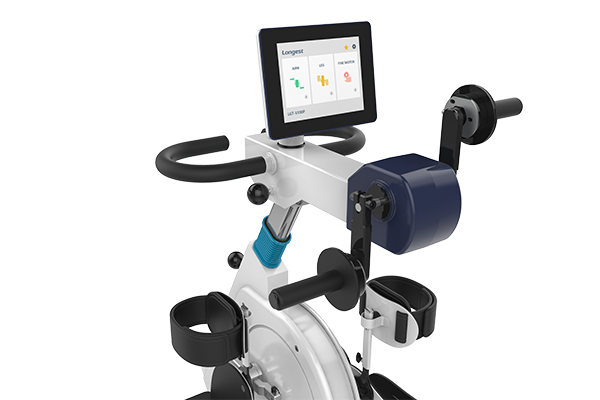 Build to last, peace of mind
All components are well-selected and tested to meet international quality and safety standards. Each link of production has undergone strict quality inspection to ensure zero-defect products. We have 23+ years of experience and expertise to make our work meet and exceed your expectations.
RehabMoto LGT-5100P is able to withstand the heavy daily demands of healthcare environments, including hospitals, physiotherapy centers, rehabilitation centers, and elderly care facilities. And it is compact and simple enough for individuals to use at home. We believe that patients extending their rehabilitation exercise to their homes can promote the recovery.
GZ Longest – Professional rehabilitation equipment manufacturer since 2000
GZ Longest provides a wide range of high-quality rehabilitation equipment with exceptional cost-performance radio. Our manufacturing is compliant with ISO 9001, ISO 13485, and MDSAP requirements. And products are approved by CE, FDA, Health Canada, and more.
We are committed to making rehabilitation more accessible and more affordable for people around the world, together with our partners.
Visit our website to explore more rehabilitation equipment and contact us for cooperation via export@longest.cn